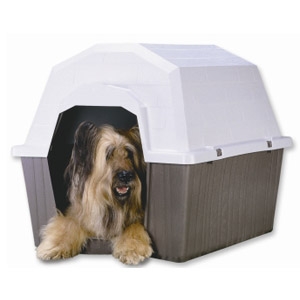 Petmate Barnhome® Dog House
Manufacturer: Petmate Pet Products
Petmate's traditional Barnhome® dog house protects your dog from outdoor elements. The barn-shaped roof and extended rim deflects rain water while the rear air ventilation promotes air circulation. Features a raised interior floor to keep your pet dry.
S, M, L, XL
prices start at $46.95
Available in a variety of sizes for pets 22″ to 28″ tall. Available accessories include an easy-attach door and Barnhome pad for added comfort.
Medium 32″ x 26″ x 24″
Large 38″ x 29″ x 30″