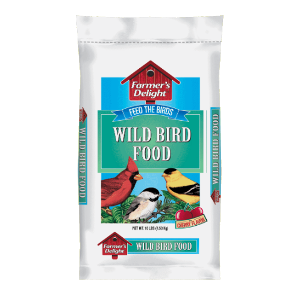 Farmres Delight Wild Bird Seed
Manufacturer: Wagner's Wild Bird Feeds
Feed the Birds!
Contains Millet, Milo, Cracked Corn, Sunflower
Nice clean blend
A great general purpose mix
Attracts all birds, especially ground feeders
Satisfaction guaranteed
Available size: 20 lb. bags
The key to starting a successful bird feeding program is the right food.
Wagner's Farmer's Delight Wild Bird Food has the four basic ingredients needed to attract backyard birds and at a value price.
Just like people, birds have different food preferences, and with Farmer's Delight, you'll discover the beautiful world of having nature's acrobats in your very own backyard.
Once they start coming, make sure your feeders are filled on a regular basis and your birds will know to keep coming back to your feeder for more.