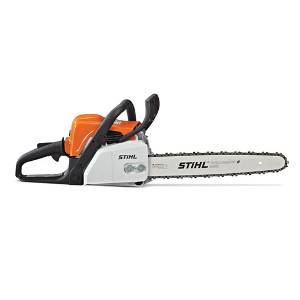 MS 170 Chainsaw 
Manufacturer: STIHL
Model Number: MS 170
A lightweight chainsaw designed for woodcutting tasks around the home.
Chainsaw price is $179.95.
*Double your warranty when you purchase either STIHL HP Ultra Oil (six pack) or STIHL MotoMix® Patented Premixed Fuel (one gallon minimum) with your STIHL product purchase. Double limited warranty protection applies to select STIHL gasoline-powered products purchased for personal non-income producing, household purposes only. Other restrictions apply. See dealer for details or refer to STIHL's Limited Warranty Policy.
The STIHL MS 170 is the perfect lightweight chainsaw for homeowners seeking a great value. Compact, lightweight with just the right amount of power, the MS 170 makes quick work of trimming or cutting small trees, fallen limbs after a storm, and other tasks around the yard. And even at its great price, the MS 170 has many of the same design features the professionals depend on.