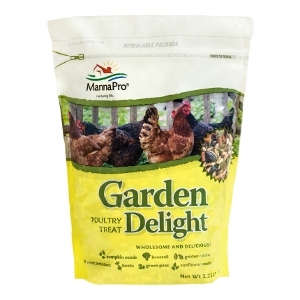 Garden Delight Poultry Treat
Manufacturer: Manna Pro Corp
Garden Delight™ Poultry Treat is a great way to reward your flock! With premium ingredients like pumpkin seeds, sunflower seeds, plus real fruits and vegetables, you can provide a treat year-round that contains all the goodness of a bountiful garden! Garden Delight also includes specially-formulated nutrition pellets for additional protein, vitamins and minerals. At Manna Pro, we understand that animals are our companions as well as our providers. So whether you raise blue-ribbon show birds or you simply enjoy the eggs and entertainment from your backyard flock, treat your feathered friends with wholesome and delicious Garden Delight!
Wholesome and delicious!
Contains premium ingredients such as pumpkin seeds, broccoli, golden raisins, sweet potatoes, beets, green peas and sunflower seeds. The perfect way to treat your flock.
2.25 lbs.