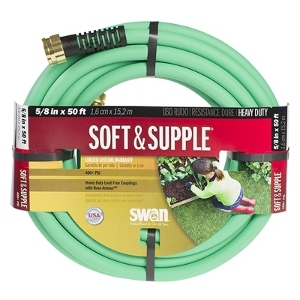 Soft & Supple 25ft. Water Hose
Soft yet durable, our Swan Soft & Supple Garden Hose gives you the best of both worlds. You can count on this soft garden hose to provide you with 50 feet of constant water flow, all while feeling gentle in your hands.
Just because a hose is soft, doesn't mean it's not strong. Our soft garden water hose comes with lead-free, crush-proof aluminum couplings that can withstand being trampled or run over by garden equipment. It also has an abrasion-resistant cover so you don't have to worry about tearing your hose.
In addition to these benefits, enjoy the powerful water flow provided by the 400+ PSI burst strength, which guarantees that you'll have a strong water volume every time.
There's no better time to buy our flexible garden hose than right now, and with our lifetime guarantee, we guarantee you won't find a more reliable place than Swan for your water hose needs.